Stock storage for online sellers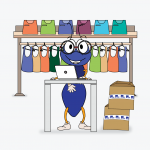 If your company operates entirely online, then your only need for premises may be to store your products. The cost of paying a lease on warehouse or office space is an unnecessary expense that will dip into your profits. Instead, using our business storage services is a low-cost alternative that means you do not need premises to run your company successfully. You simply pay for the business storage space, as and when you need it.
When you need self-storage ?
Flexibility for your stock

Your business is growing and you have no space to store your goods. Blue Box is your temporary solution before you find a suitable warehouse.

Needing to upscale for peak periods

Whether it's the Christmas rush or wedding season… make sure you've got the right amount of stock so you can maximise sales. Short-term self-storage can help you cater for these peak periods.

Your business is growing fast

You've been working hard to create a brand. Instead of having piles of merchandise throughout your home ready for you to trip over, get a storage unit.

Products taking over your home

You find that your space quickly runs out as you accumulate "stuff". You might not have an appropriate storage space in your home. Blue Box Self-Storage is a great way to store your merchandise.
Self storage for business- this is why you will find the solution at Blue Box
Store as much or as little as you want

Our self-storage has a huge range of unit sizes ranging from 2.5 to 20 m² which assure you that you won't pay for unnecessary space.

Flexible Storage terms

Whether you need to store for a month a year or who knows how long, our self-storage is for you. Flexible terms mean you can extend your storage as long as you need, or move out whenever. What's more if your storage requirements change you can easily add an extra unit for more space, or downsize to a smaller unit. Self-Storage is totally flexible.

Access whenever you want it

You will have a 24 hours' access 7 days a week to your storage rental through our controlled access gates.

Easy Access

At blue box self-storage, you will have easy access to load and unload your contents. There will be trolleys, hand trucks and pallet jacks enabling your transfers to be simple as possible. A ladder will be at your disposal.

Peace of mind

Safe environnement: only you can access your box. Our secure center is a calm and confident storage.

The facility is equipped with CCTV, fire and intrusion alarms, and 24-hour security guard. In addition, you have your own access codes and hold the only key to lock your storage.One less thing to worry about. Nevertheless, it is recommended that you take out insurance for your belongings.

Transparent prices

We simply always quote you our best prices the first time and we publish them on our web site.You benefit, for sure, from the most advantageous rate possible according to your particular case.

Expert advice

Our storage experts are happy to advise you on what storage size to choose. (It's nearly always smaller than you think.)

Pack Safely

Blue Box is a one stop shop for all your packing and moving needs. We sell a variety of moving accesories at competitive prices such as boxes, mattress covers, sofa covers, packing tape, wardrobe boxes etc. so you can protect your belongings easily.
It is easy to rent a personal storage unit – in just 5 simple steps!
Wondering how much the units cost ?