Moving House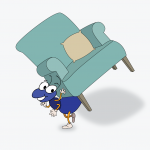 Moving to another house can be stressful nowadays. So let our team Blue box help you in your approach. Whether you're looking to store big, bulky furniture or just some bedroom linens, we have a range of different size storage rooms, so you can find perfect for your belongings. We pride ourselves on being able to offer great value for money.
When self-storage can help during your house move?
Decluttering

When you're moving, or putting your home on the market and want it to look more spacious and pristine to potential buyers.

Space to sort

It can be helpful to start packing away the things that you don't use on a day-to-day. Instead of having boxes of your packed-up possessions lying around all over the house and getting in your way, it can be helpful to keep them in a safe and secure storage unit until after the move. This will ease the pressure on moving day and help you to stay organized.

Downsizing

If you want to move into a smaller property but you still want to keep your possessions. Keeping them in storage makes sense.

A saviour while moving

A common problem people face while relocating is the date of moving into the new house What if your new house is not fully ready by the time you leave your old residence? Just keep all your belongings in our self-storage and once your new home is ready, shift everything to the new home.

Moving in together

Self-storage can help to store belongings while you decide what you need and like.

Accommodating Guests

You live in a small flat or an apartment and suddenly some guests come for a short stay. You don't have an extra room to accommodate your guests. You have to somehow fit them in your small home, which is filled with goods. Take out all the furniture and objects from a room and vacate it so that your guests can stay in it. Keep that furniture and other objects in a storage unit. Once your guests leave, bring back all the items.
Personnal storage- this is why you will find the solution at Blue Box
Store as much or as little as you want

Our self-storage has a huge range of unit sizes ranging from 2.5 to 20 m² which assure you that you won't pay for unnecessary space.

Flexible Storage terms

Whether you need to store for a month a year or who knows how long, our self-storage is for you. Flexible terms mean you can extend your storage as long as you need, or move out whenever. What's more if your storage requirements change you can easily add an extra unit for more space, or downsize to a smaller unit. Self-Storage is totally flexible.

Access whenever you want it

You will have a 24 hours' access 7 days a week to your storage rental through our controlled access gates.

Easy Access

At blue box self-storage, you will have easy access to load and unload your contents. There will be trolleys, hand trucks and pallet jacks enabling your transfers to be simple as possible. A ladder will be at your disposal.

Peace of mind

Safe environnement: only you can access your box. Our secure center is a calm and confident storage.

The facility is equipped with CCTV, fire and intrusion alarms, and 24-hour security guard. In addition, you have your own access codes and hold the only key to lock your storage.One less thing to worry about. Nevertheless, it is recommended that you take out insurance for your belongings.

Transparent prices

We simply always quote you our best prices the first time and we publish them on our web site.You benefit, for sure, from the most advantageous rate possible according to your particular case.

Expert advice

Our storage experts are happy to advise you on what storage size to choose. (It's nearly always smaller than you think.)

Pack Safely

Blue Box is a one stop shop for all your packing and moving needs. We sell a variety of moving accesories at competitive prices such as boxes, mattress covers, sofa covers, packing tape, wardrobe boxes etc. so you can protect your belongings easily.
It is easy to rent a personal storage unit – in just 5 simple steps!
Wondering how much the units cost ?